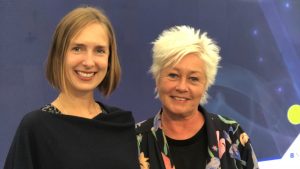 Europe faces several major challenges, five of which are climate crisis, healthy oceans, healthy cities, soils and food, and cancer. To address these challenges, the European Commission has established a programme called Horizon Europe. This autumn, five expert groups will start defining what needs to be done to solve the problems.
Anne Lise Ryel is a member of the Group that will set the priorities for cancer research. She will work together with 14 other international experts, with various backgrounds and expertise within cancer control.
– Cancer is a growing global challenge, and it is fitting that it is now defined as one of five priority areas in Europe. I have great faith that this will lead to advances in cancer research and I am honoured to be part of this historic work, says Ryel.
Of over 2100 applicants, Ryel is one of two Norwegians appointed to sit in the Expert Groups. Per Espen Stoknes, Associate Professor from the Norwegian Business School (BI), will join the research group focusing on climate.
A multi-billion Investment
NOK 942 billion are budgeted for research through Horizon Europe. Approximately half of the funds will be spent on research to tackle the five major challenges, while the remaining billions will be channelled to other innovative projects. The research projects will run until 2027.
– To solve the complex cancer challenges, bringing together researchers across national borders is essential. Horizon Europe is a well-funded mechanism which offers opportunities for collaboration. This suggests better prospects for cancer patients.
For Ryel, the voice of people affected by cancers is important and should be heard all through this research programme.
Norwegian support
Norway contributes financially to Horizon Europe. It is therefore important for the Norwegian authorities that we are represented in the expert groups. Bent Høie, Minister of Health and Care Services, and Iselin Nybø, Minister of Science and Higher Education, recommended Ryel for this responsibility at Horizon Europe.
– I am grateful for the confidence the government place in me. Although Norway is not an EU member state, we are closely connected to everything that happens within research and innovation in Europe. Participating in Horizon Europe will strengthen our ties and contribute to better high-level collaboration, says Ryel.