The Norwegian Cancer Society (NCS) is one of the largest organisations in Norway. It represents the voices of those affected by cancer.
We have 128 000 members, 27 000 volunteers and 190 employees. All are dedicated to promoting cancer cause.
NCS works continuously to improve society's attitude to the prevention and treatment of cancer. We fight cancer locally, nationally and globally. Through research and preventive measures, information, support, advice and lobbying.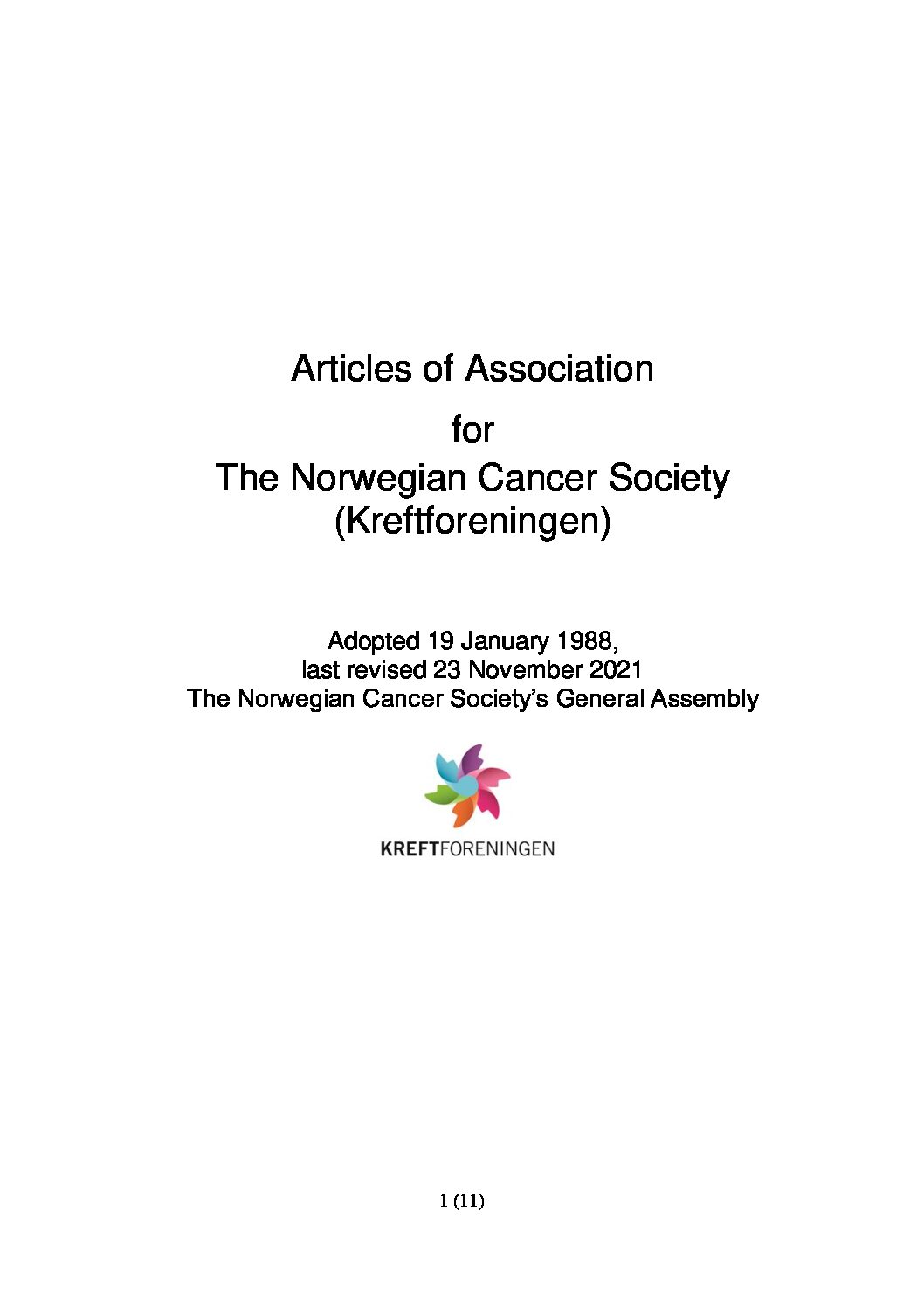 Articles of Association
Our main priorities
The Norwegian Cancer Society's purpose is to work to prevent and fight cancer. And to improve quality of life for patients and their families. Our vision is «a life without cancer».
Strategy 2020–2023
What we do
Funding research is our main priority. Research implies hope for a cure for cancer in the future. It also implies optimal and quality cancer treatment for patients through excellent cancer research in Norway.
The NCS provides a considerable amount of of all direct funding for cancer research in Norway, thus contributing to promoting a research environment of top international standard in the country.
Through our work on disseminating information and knowledge, along with initiating projects and supporting political advocacy campaigns, the NCS endeavours to contribute to reducing the number of cancer cases. Our main efforts are focused on areas with a high potential for cancer prevention such as tobacco, sun protection, diet and physical activity.
The NCS is also actively involved in international projects. Since tobacco is the single main cause of cancer globally, we support various international tobacco prevention projects.
Our efforts include supporting political advocacy programmes to include the fight against cancer and other non-communicable diseases in the development aid priorities of the Norwegian authorities and decision makers. This also comprises the revised UN development goal.
Our goal is to achieve optimal life quality for cancer patients and their families through information and intervention campaigns, projects and political advocacy.
One of our major accomplishments in collaboration with the Norwegian health authorities has been the establishment of Vardesenter, centres catering for the needs of hospitalized cancer patients. Another important milestone has been providing additional support to patients and caregivers through the services of a «cancer coordinator».
We also offer direct support to patients and their families through our cancer helpline, through services focused on patients' rights and living conditions, and through working with volunteers and peers in collaboration with patient organizations. As well as offering financial support, other major work areas include providing services for children and adolescents, rehabilitation programmes and palliative care, and psychosocial support.
It is important for us to focus on highlighting cancer care, and particularly on topics that are sensitive and taboo.
The Norwegian Cancer Society is in constant dialogue and communication with cancer patients, families and other relevant bodies through various channels.
Our goals include fundraising to promote activities, and providing comprehensive and credible information on cancer and the various activities in our organization. The NCS is dependent on fund raising and donations and runs several campaigns and fundraising events during the year to draw attention to current issues.
We lead the way
The Norwegian Cancer Society have introduced a number of vital improvements within the field of cancer. Mammogram screening, the Norwegian Cancer Registry, the Varde centres for patients and their families, and cancer coordinators in the municipalities are just some of the measures we have initiated.