The Norwegian Cancer Society is funding an important pilot project for lung cancer screening in the country. The method has been shown to significantly reduce mortality of the disease.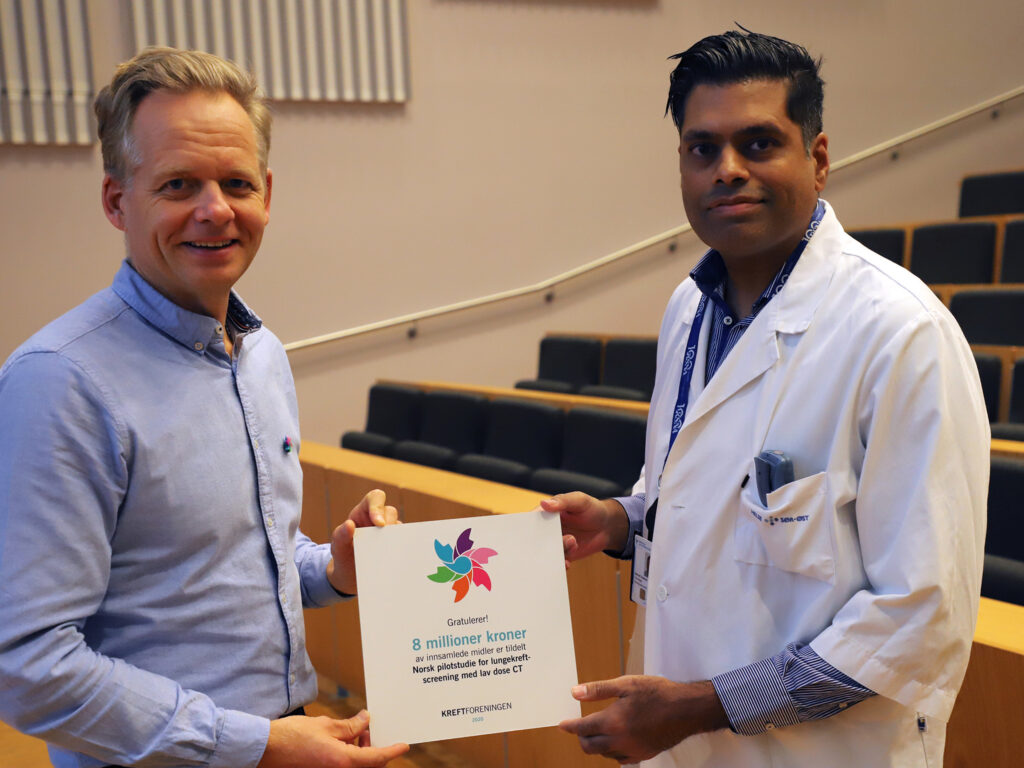 The Norwegian Cancer Society has granted MNOK 8 to an implementation study for lung cancer screenings in Norway.
– Too many people in our society die from lung cancer. This is primarily because the cancer is detected late and has already had time to spread. There is no longer any doubt that lung cancer screening in high-risk groups is a method which saves lives. It is therefore a great pleasure to support this project, says the General Secretary of the Cancer Society, Ingrid Stenstadvold Ross.
Positive results
Lung cancer is the disease which claims the most lives of any illness in Norway. Each year, approximately 3,300 people develop this disease, 2,300 of whom do not survive. Screening is the mass examination of risk groups where we filter out healthy individuals from people who have cancer or who need to undergo further tests.
Several studies show that screening using CT imaging has a positive effect on the depressing prognoses of this disease. The Dutch-Belgian NELSON study published earlier this year shows that lung cancer screening reduces mortality by 26 per cent in men and by over 40 per cent in women.
– These are incredibly encouraging results which indicate the great potential that lies in screening. There is broad agreement that a national screening programme should be introduced in Norway, but implementing such a programme within the public healthcare sector takes time. We are now becoming impatient and hope that this pilot project will speed up the process, says Ross.
Funds raised
The funds granted to the project were collected through the Cancer Society's fundraising campaign Effort Against Cancer (Krafttak mot kreft) which, for the last two years, has focussed on cancers that few people survive. Raising awareness of these cancers has been an important priority for the Cancer Society.
Project manager for the pilot study, senior consultant and associate professor Haseem Ashraf at Akershus University Hospital, believes that a national screening programme could save approximately 500 lives over the course of three years.
– In cases where lung cancer has been able to spread, the survival rate is very low. Screening makes it possible to detect cancer before it has a chance to spread and therefore to provide curative treatment, says Ashraf.
It is encouraging that we finally have a method which can reduce the high mortality rate. It is also very exciting that Norway is set to become the first country in Scandinavia to start such a pilot scheme.
He believes that the efforts of the Cancer Society will be of great significance to how quickly lung cancer screening can become a national service offering.
– The aim now is to identify how we will go about recruiting participants and how screenings will be carried out in practice, because this can vary from country to country. This is something that we are going to identify as part of this study. The fact we are being given funds from the Cancer Society for this pilot is an important catalyst and will help shorten the way towards a national lung cancer screening programme, he says.
European study
The study will also map out how many Norwegians are in the risk group for developing lung cancer and how many meet the criteria to participate. The Norwegian pilot study will form part of a larger, Europe-wide study entitled 4-IN-THE-LUNG-RUN. The target group is people aged 60 to 79 who are currently or were previously heavy smokers.
– We have great faith in this project and hope that a national screening programme will be introduced within a few years. This will save society both huge sums of money and a great many lost lives, says Stenstadvold Ross.